Rishi Sunak announces windfall tax
The noise
The Federal Reserve has upwardly revised the forecast for its preferred inflation gauge, the PCI to 4.3% this year with predictions that it will decelerate to 2.5% next year. Members of the policy committee aren't unduly worried about economic growth and expect it to "advance at a solid pace over the remainder of the year".
Rishi Sunak announced that the U.K. government will impose a "temporary and targeted" windfall tax of 25% on the profits of oil and gas companies. The government will send a one-time £650 cost of living payment directly to around 8 million of the lowest-income households in the U.K.
US mortgage rates posted the largest weekly drop in over two years. The average for a 30- year loan declined for the second week in a row to 5.1% from the week beginning 16th May, when it averaged 5.25% in data released by mortgage capital provider, Freddie Mac.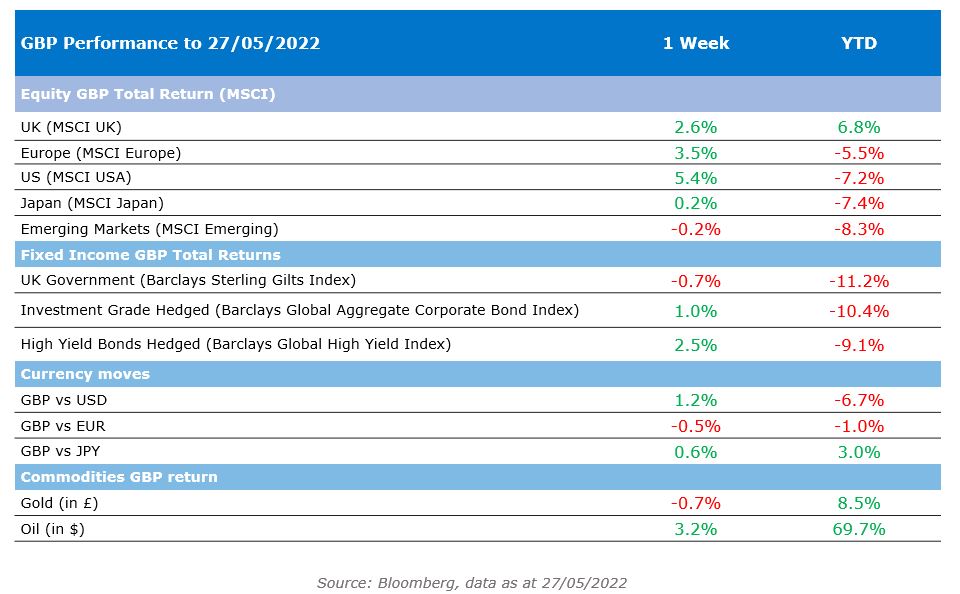 The nuance
Last week saw continued deterioration in both the economic data and corporate news flow, with signs of broad based weakness in industrial production, the US housing market and consumer facing companies. Very soon investors will get the answer to a question that Jerome Powell has deliberately avoided. Will the FED continue to fight inflation if the economy weakens? Equity markets are oversold in the short term and a sharp bounce is overdue, but we continue to see patience and risk control as investors' best tools at this point in the cycle.
Quote of the week
"We're all so excited about the Platinum Jubilee, and this incredible throne perfectly combines our love of all things royal with Farmhouse Inns' best-in-class carvery.." Emma Smith.
The Bramley Farm pub in Altrincham, Manchester, has started celebrations for the Queen's Platinum Jubilee early by changing their name and making a bizarre throne from carvery ingredients.
Two pub managers decided to celebrate the Queen's Platinum Jubilee by creating a huge throne out of roast dinner ingredients – completing with Yorkshire pudding arms. The Bramley farm has renamed itself as Ma'amhouse Inns in a tribute to her majesty ahead of her 70-year anniversary as monarch, as the Daily Star reports.
But Julianne Martin and Donna Pilling, the managers of the pub in Altrincham, Manchester, didn't stop there, as they approached food artist Nathan Wyburn to make something a bit special.
He created a throne fit for the Queen but made completely out of roast dinner ingredients – including Yorkshire puddings, roast potatoes and broccoli.